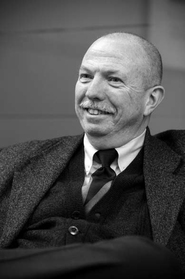 We are a mix of Asian, African, American and European people giving a healthy and stimulating variety of backgrounds and perspectives. We are faithful to the Bible but not "narrow" culturally. An amazing blend of people feel at home in the Lord together at the IECL.
I work part time in the Church and do half of the preaching, some counselling, lead the discussions groups, participate in the music program and come to the Young People's Group Saturday meetings. I travel a lot for teaching and preaching and the IECL is my home base Church.

My involvement is a joy to me for various reasons: The people love Bible teaching and are hungry to learn. It becomes more and more clear to me that we learn to love each other more. The people are genuinely friendly and welcoming to visitors and many people are comforted and strengthened while in Lausanne for a short time.

You too are warmly welcome among us!

Ellis
Ellis Potter was born in California and was a Zen Buddhist for many years before becoming a Christian. He has lectured and preached on all 5 continents in Churches, conferences and Universities. He continues his extensive teaching and preaching ministry while serving as a part-time pastor at the IECL since 2007.