The International Evangelical Church of Lausanne (IECL)
The IECL is an English speaking City Church in Lausanne. With its international and interdenominational character, the IECL is like a small microcosm of the worldwide Church, an aspect we celebrate. We are a small but warm fellowship and well connected to the local Swiss church.
The service at the IECL is good food for the soul through worship in song, prayer and an edifying message.
Whether you are a visitor in Lausanne or looking for a church to attend regularly, we welcome you at the IECL. Join us for our Sunday morning worship at 12:00 noon in the premises of the Methodist Church at Place de la Riponne 7, in the heart of Lausanne. We look forward to meeting you!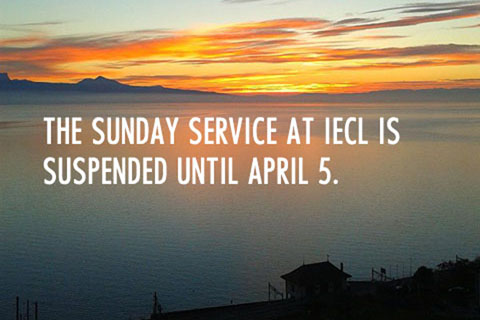 Due to the spread of the new coronavirus and in order not to put any vulnerable people at risk we have decided to suspend our services until Palm Sunday. We encourage all of our Church family to meet informally for reading the Bible, prayer and fellowship. Please respect the guidelines of the Swiss authorities and the advisory from the Swiss Office of Public Health.
Link to the Website of the Swiss Office of Public Health advisory on the new coronavirus

You can find the programme of our services by clicking here